Special Events for 2020
Our 2020 calendar will be coming along shortly. Some necessary construction along the line precludes operations in May of this year. Our first special event for the 2020 season will be a WW II Allies vs. the Axis battle on June 20. Further details to follow… Secretary@srrl-rr.org.
Past 2019 Events
Flyrod Crosby Day – Saturday, May 18, 2019
Take a ride upon the Fast Fly Fisherman, a special train that was run back in the days of yore. Meet Flyrod Crosby, a native of Phillips, naturalist and guide who was employed by the railroad to promote tourism along the Sandy River. Ms. Crosby will explain her role with the railway and as a local guide, including some anecdotes about what it was for a woman to perform such a role at the turn of the last century.
WWII Re-enactment – Saturday, June 8, 2019
It's D-Day plus one. Allied forces attempt to break out from their Normandy beachheads while German re-enforcement are brought up to the front by train. Witness the Allied Airborne forces struggle with the defenders of Hitler's Atlantic wall. Accompany the German forces as they ride the train to meet the massive Allied invasion. The future of Europe is at stake, but who will prevail?
Please note that this is anticipated to be a large event, with many re-enactors participating on both sides. Trains will commence at 10 AM with the last departure around 3 PM. Due to the nature of this event, train may run a little longer than our normal 50 minute schedule.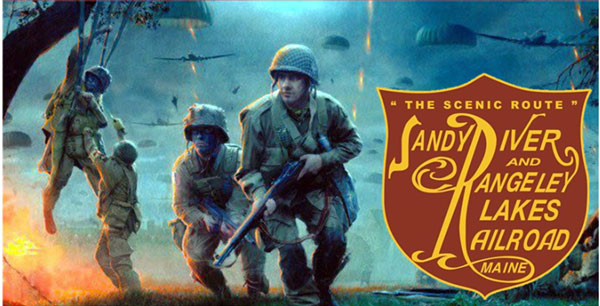 Father's Day – Sunday June 16, 2019
What better way to spend Father's Day than riding a steam train along our scenic route in the woods of Maine? Well, how about free ice cream for everyone that day? We are sure that Dad won't mind, and the children aren't likely to protest to much either. Ice cream is served at the south end of the line near our roundhouse complex. Feel free to take your time and explore the roundhouse, returning on a later train if you like. Children of all ages enjoy driving the hand car, which as the name implies, is powered by hand.
The Great Train Robbery – Western Reenactment Weekend – Saturday and Sunday July 20-21, 2019
Experience the thrill of the Wild West as desperadoes attempt to rob our train. Good guys battle the bad guys with six guns and more. This promises to be a redux of Butch Cassidy and the Sundance Kid, only without the dynamite.
Civil War Reenactment – Saturday August 17, 2018
Uniformed forces of the Union and the Confederacy encamp along our railway and battle for control of the train. This event features exchanges of black powder pistol and rifle fire, and control of of the line changes so many times you would think it was the Baltimore and Ohio!
Ghost Trains – October 12
Join us for our annual ghost train runs. This is a cooperative event supported by the local eighth grade class, and is always listed as "tentative" until the new class arrives at school and has a chance to decide upon their participation in the event. The first train runs at 6:45 PM, rain or shine, with departures about every half hour thereafter. The full event runs from 6:45 to 9:30 PM.
Who knows what we might encounter as our intrepid little train plies the rails in darkness? There is really only one way to find out, so buck up and join us for an eerie ride through the dark Maine woods. For those of you who are afraid of the dark, there will also be daytime train runs from 11 AM to 4 PM on this date.